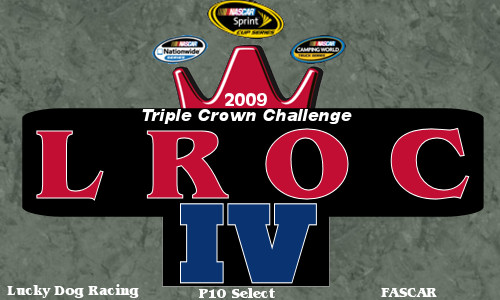 2009
Champion Driver – Steve Willard
Champion Team – FASCAR
Season four featured the same three teams from season three, Lucky Dog Racing, P10 Select and FASCAR. The same format as the previous season was kept although the amount of races expanded from 12 to 18.
Both Lucky Dog Racing and P10 Select each had a member miss picks during the season which gave the victory to FASCAR whose drivers made every single race. Lucky Dog Racing finished in 2nd place for the fourth straight year while P10 Select finished in 3rd place for the first time.
Steve Willard won the driver's championship for the first time. Lucky Dog Racing's highest finishing driver was last year's winner, Dean Higley who finished in 3rd. FASCAR's highest driver was Philip Hamm in 6th place.
FASCAR – 1st Place Team

Driver

Races

Finish

Philip Hamm

18

6th

Randy Dorris

18

7th

Austin E.

18

8th

Robert Batz

18

10th

Mark Erickson, Jr.

18

11th

Wendal Ebach

18

12th
Lucky Dog Racing – 2nd Place Team

Driver

Races

Finish

Dean Higley

18

3rd

Joe Hicks

18

5th

Stephen DiCaprio

18

9th

Mike McKillop

18

13th

Lou Demian

18

14th

Gary Wheat

18

16th
P10 Select – 3rd Place Team

Driver

Races

Finish

Steve Willard

18

1st

Jay Smogolski

18

2nd

John Magee

18

3rd

Mark Blose

18

15th

Bill Lawson

18

17th

Brian Speers

12

18th

Larry Wagner

6

19th
2009 LROC RACE RESULTS

Week 1:

February 13-15 2009
Daytona


Week 1 Results

– Winner: Philip Hamm


Week 2:

February 21-22 2009
California


Week 2 Results

– Winner: Philip Hamm


Week 3:

March 21-28 2009
Bristol-Martinsville


Week 3 Results

– Winner: Wendal Ebach


Week 4:

April 25-26 2009
Kansas-Talladega


Week 4 Results

– Winner: Jay Smogolski


Week 5:

May 30-31 2009
Dover


Week 5 Results

– Winner: Jay Smogolski


Week 6:

June 5-7 2009
Texas-Nashville-Pocono


Week 6 Results

– Winner: John Magee


Week 7:

June 13-14 2009
Michigan-Kentucky


Week 7 Results

– Winner: Randy Dorris


Week 8:

June 19-21 2009
Milwaukee-Infineon


Week 8 Results

– Winner: Jay Smogolski


Week 9:

June 27-28 2009
Memphis-New Hampshire


Week 9 Results

– Winner: Bill Lawson


Week 10:

July 24-26 2009
Indianapolis


Week 10 Results

– Winner: Philip Hamm


Week 11:

August 1-2 2009
Nashville-Iowa-Pocono


Week 11 Results

– Winner: Lou Demian


Week 12:

September 5-6 2009
Iowa-Atlanta


Week 12 Results

– Winner: Jay Smogolski


Week 13:

September 11-12 2009
Gateway-Richmond


Week 13 Results

– Winner: Brian Speers


Week 14:

September 26-27 2009
Las Vegas-Dover


Week 14 Results

– Winner: Steve Willard


Week 15:

October 24-25 2009
Memphis-Martinsville


Week 15 Results

– Winner: Steve Willard


Week 16:

November 6-8 2009
Texas


Week 16 Results

– Winner: Dean Higley


Week 17:

November 13-14 2009
Phoenix


Week 17 Results

– Winner: Robert Batz


Week 18:

November 20-22 2009
Homestead


Week 18 Results

– Winner: Dean Higley

Click Here For 2009 LROC STANDINGS
FASCAR Points: 88910
Lucky Dog Racing Points: 88422
P10 Select Points: 88234